RC H-Series Automatic Tube Cutoff Machines
Hautau automatic tube cut-off machines are used throughout industry for high-production of tubular parts. We build systems for basic cut-off and chamfer operations or for grooving, boring and machining deep weld-preps. Our proven systems are the most advanced way to cut, face and chamfer tubes in one operation.
Hautau cutoff lathes hold the tube stationary during the cut while the rotating head moves the cut off tools in for cutting and chamfering. The tube is gripped by two tube chucks that position the tube for cutting the inside and outside chamfers, then hydraulic servos move both tube ends for chamfering, boring, grooving and facing. The tube lengths are precise and chamfer depths are programmable. The RC-H series machines are built in four models, covering the diameter range of 3/4" to 9.1"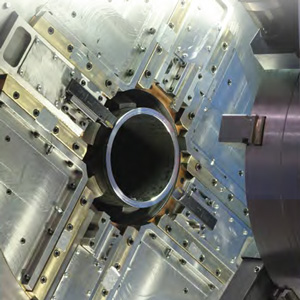 When cutting tubing or pipe to length, Hautau automatic tube cutoff machines eliminate secondary deburring or chamfering operations. With our with rotating-head technology you can produce finished tubular parts with chamfers on all edges, and you get fast changeover. Our built-in software has programs for facing, boring, grooving, deep weld-bevels and OD turning. Hautau offers a complete line of tube cutoff machines, tube loaders, tube unloaders and end finishing equipment for the tube processing industry. Whether you cut in small batches or long production runs, we have a cutting system that's right for your unique application.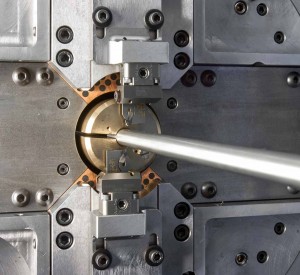 The Hautau length control system allows the operator to program up to ten cut lengths, and then choose the quantity and length combination with the shortest remnant. Additional material savings comes from the ability to face the leading tube end instead making a trim cut, and from the ability of the tube feeder to handle very short remnant short pieces. And the first cut piece is within tolerance without adjustments.
With the Hautau automatic tube cutoff machine, setup time for different tube diameters is fast a repeatable. All tube loading, feeding, chucking, and cutting motions adjust automatically when the operator keys in the tube size. The servo tube feeder eliminates length stops and adjustments and allows multi-length cutting. Each tube length is measured as it passes through the loader, so if a short tube is detected the cut quantity adjusts without operator input. Cut length setups and grooving programs can be stored for repeat jobs, and tool setup is fast using the screen prompts.