Hautau builds a complete line of automatic tube loading systems for our cutoff machines and for integration into tube processing cells. Our automatic tube loaders include both chain and strap-type bundle loaders, indexing chain conveyors plus custom tube transfer systems for continuous tube processing from tube mill operations. We offer systems for loading tubes from .75 inch to 9 inch diameter, in lengths up to 60 feet.

Chain-type tube loaders for banded bundles
Strap-type tube loaders for banded bundles
Double-side loaders for high production
Indexing-chain loaders for short runs
Inclined-table loaders for heavy tubes
Indexing-dial loaders for square and rectangular tubes
By including a tube bundle loading system, you'll increase your unattended runtime and get the highest production from your tube cutoff machine. And if our standard loaders aren't right for you, we'll work with you to build a custom system that's just right for your unique application.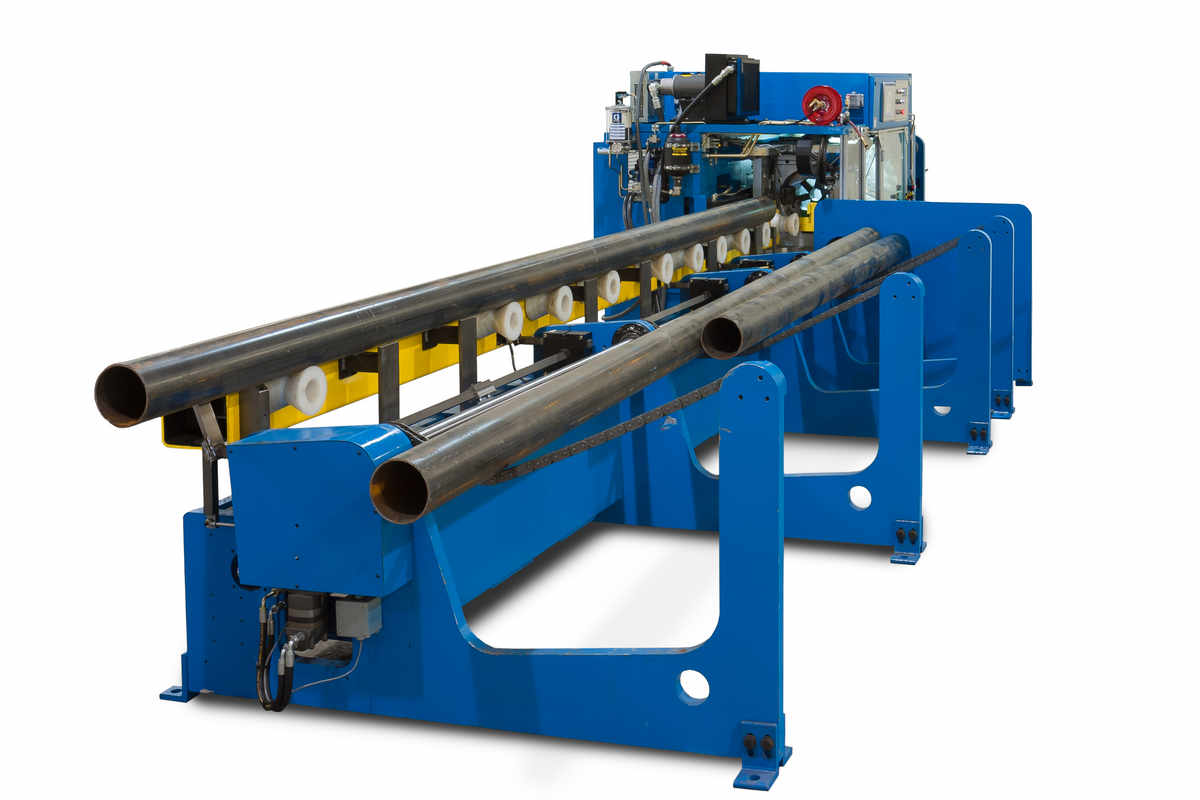 Automatic Tube Bundle Loaders
Tube Diameter Capacity: 0.75 inch to 9 inches
Bar Diameter capacity: Up to 3 inches
Weight Capacity: Up to 10,000 pounds
Tube Lengths: 10 to 24 feet, optional up to 60 feet
All motions are hydraulic with adjustable overload protection.
Sequencing and diagnostics are integrated so no adjustments for diameter change.
Full bundles are raised by chains or nylon straps allowing tubes to roll into a magazine.
All loaders feature a fully-welded frame with a stiff, "box-tube" construction for quick installation and proper alignment.
Chain loaders never require strap replacement or adjustment, and are recommended for most applications.
Strap loaders come with nylon tube stops for use with plating-quality tubing or soft materials such as aluminum or copper.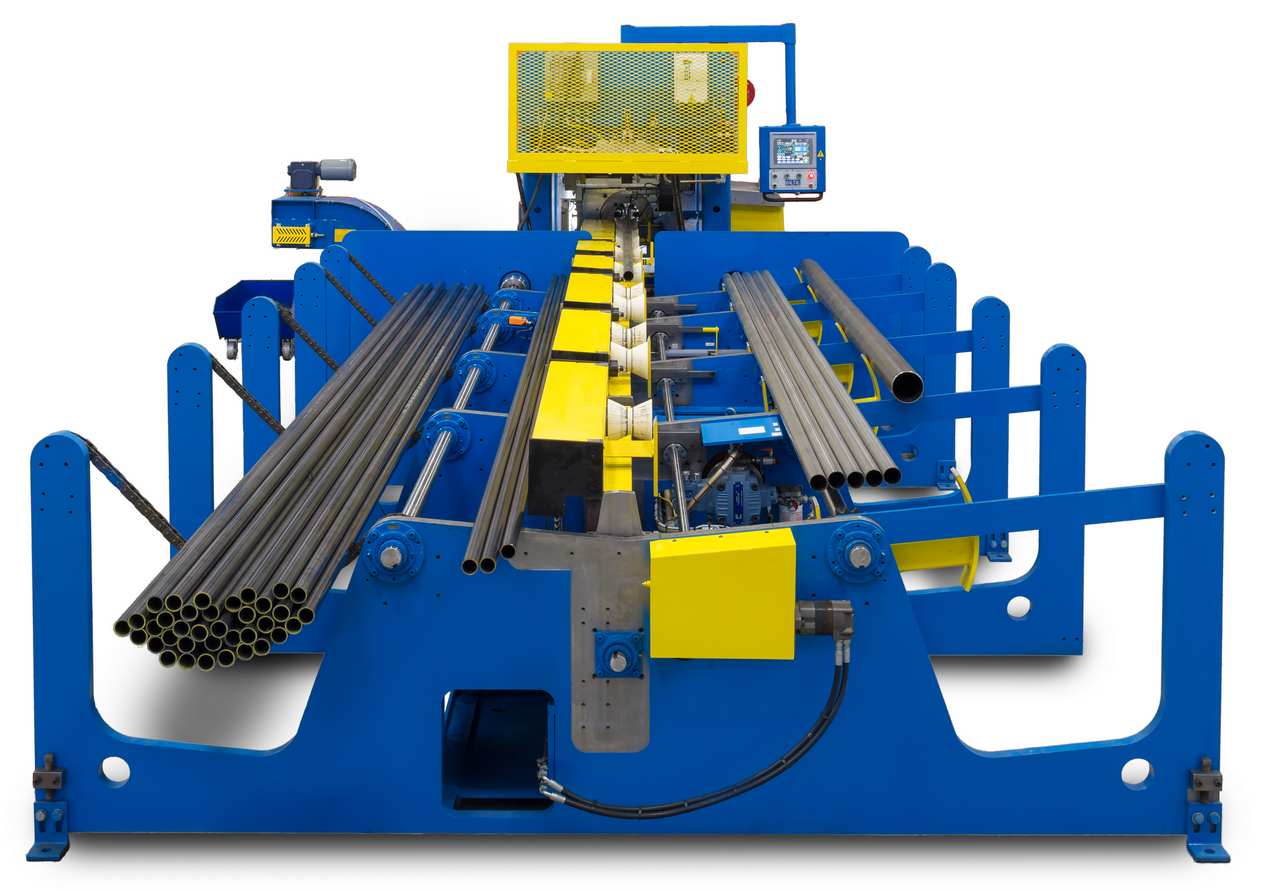 Bundle Loader Features & Benefits:
Open-front design for easy fork truck access
Oversize load area for handling large bundles
Cushioned tube stops for smooth operation
Durable urethane tube support wheels
Automatic tube diameter adjustment
Double Side Loaders

Double side loaders allow you to switch quickly from one size to another. Keep a high-volume size on one side and short runs on the other side.
Powered V-wheels move the tube so there's no overhead drive wheel.
Setup and load one side while feeding from the other side.
Great for cutting long lengths of large tubing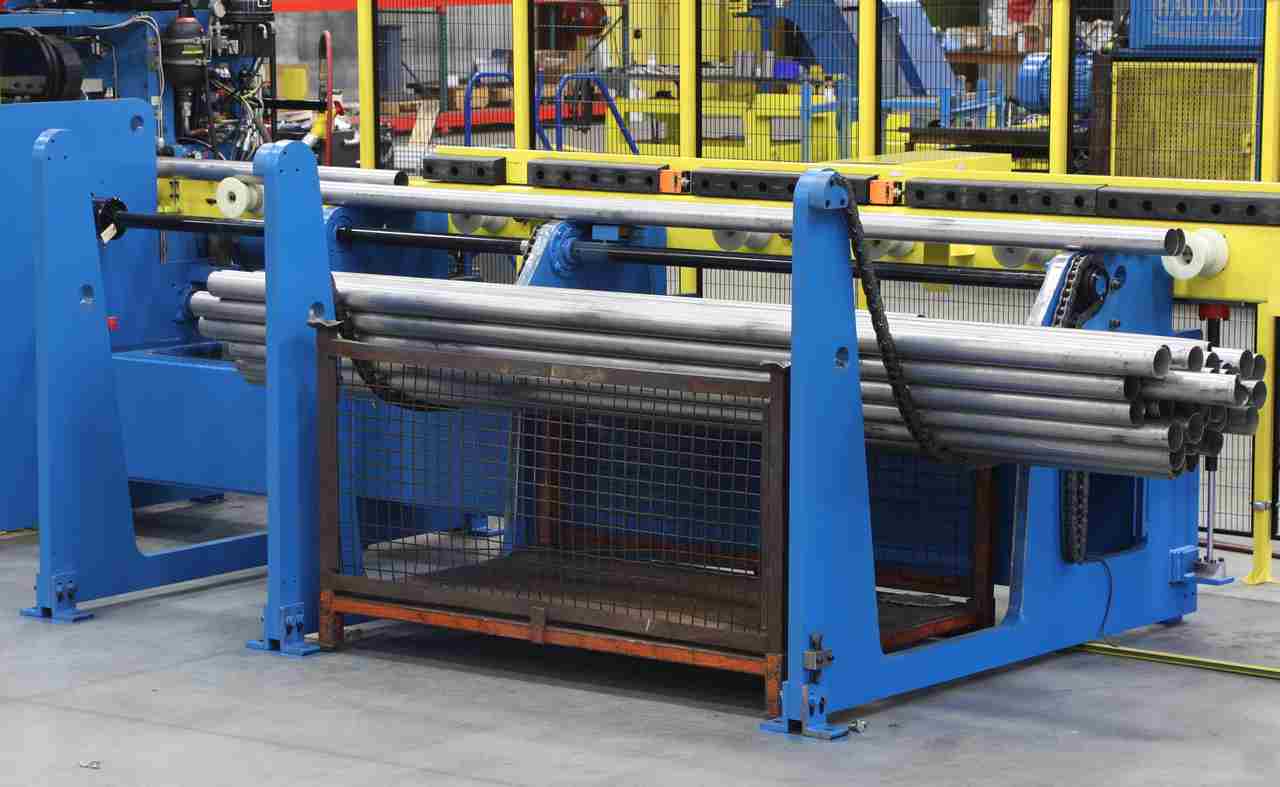 Inclined Table Loaders
These rugged loaders are built for the handling heavy-wall tubing used in bearing and gear production. We've added special tube stops and transfer mechanisms that release the tubes smoothly and reduce impact and noise. And the table angle can be lowered to return uncut tubes for removal.
Automatic diameter setup, so there are no adjustments
Powered load table tilts up or down.
Built-in scale measures random-length tubes
Compact design takes less floor space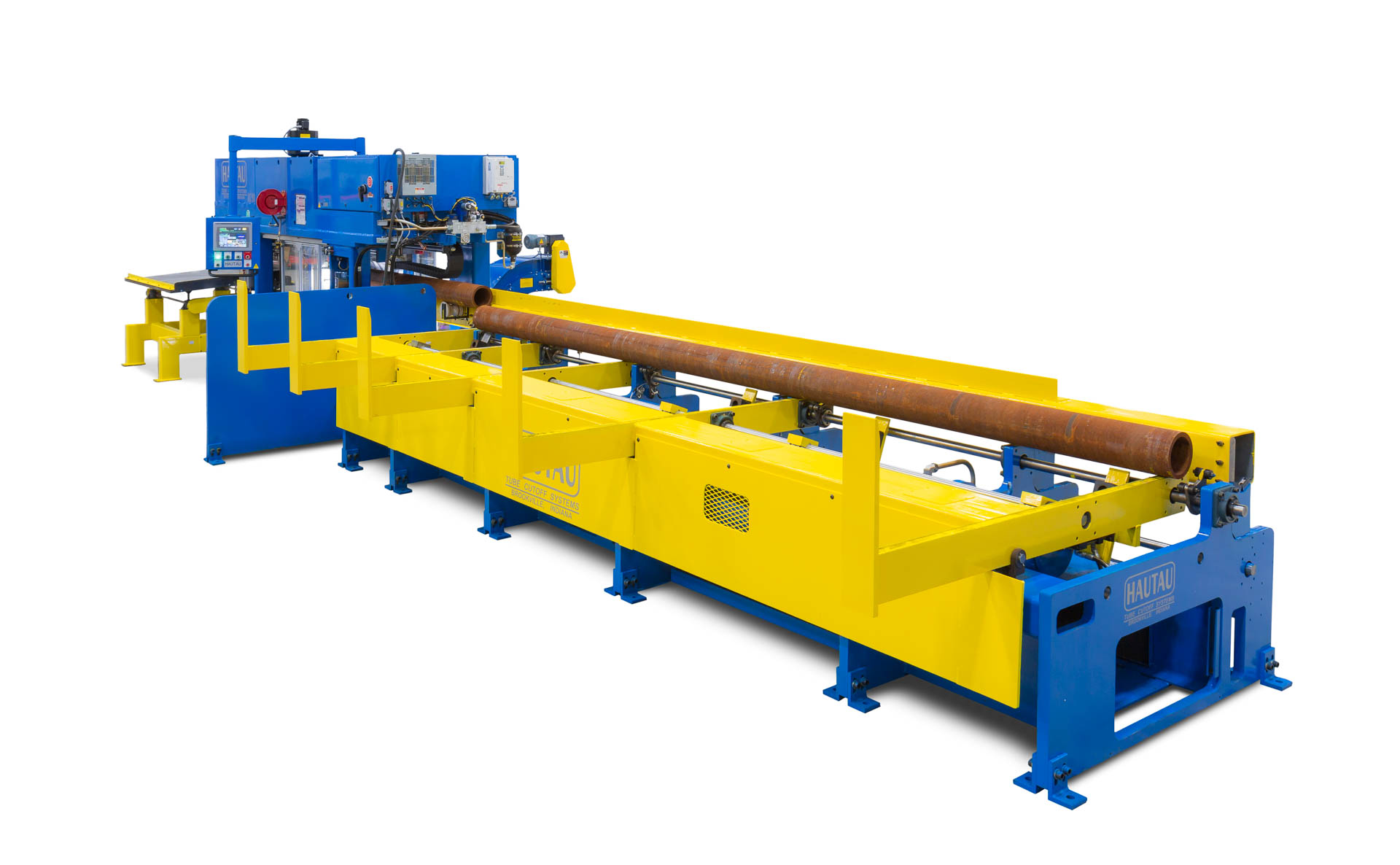 Long Length Tube Handling
These systems are designed for DOM tube-mill and pilger mill applications and long tube processors. The servo pinch-rolls feed the tube to precise length based on actual tube length.
Recut 60 foot lengths into three 20 foot lengths
Automatic diameter setup
Built-in scale measures random-length tubes
Automatic sorting and off-loading of lengths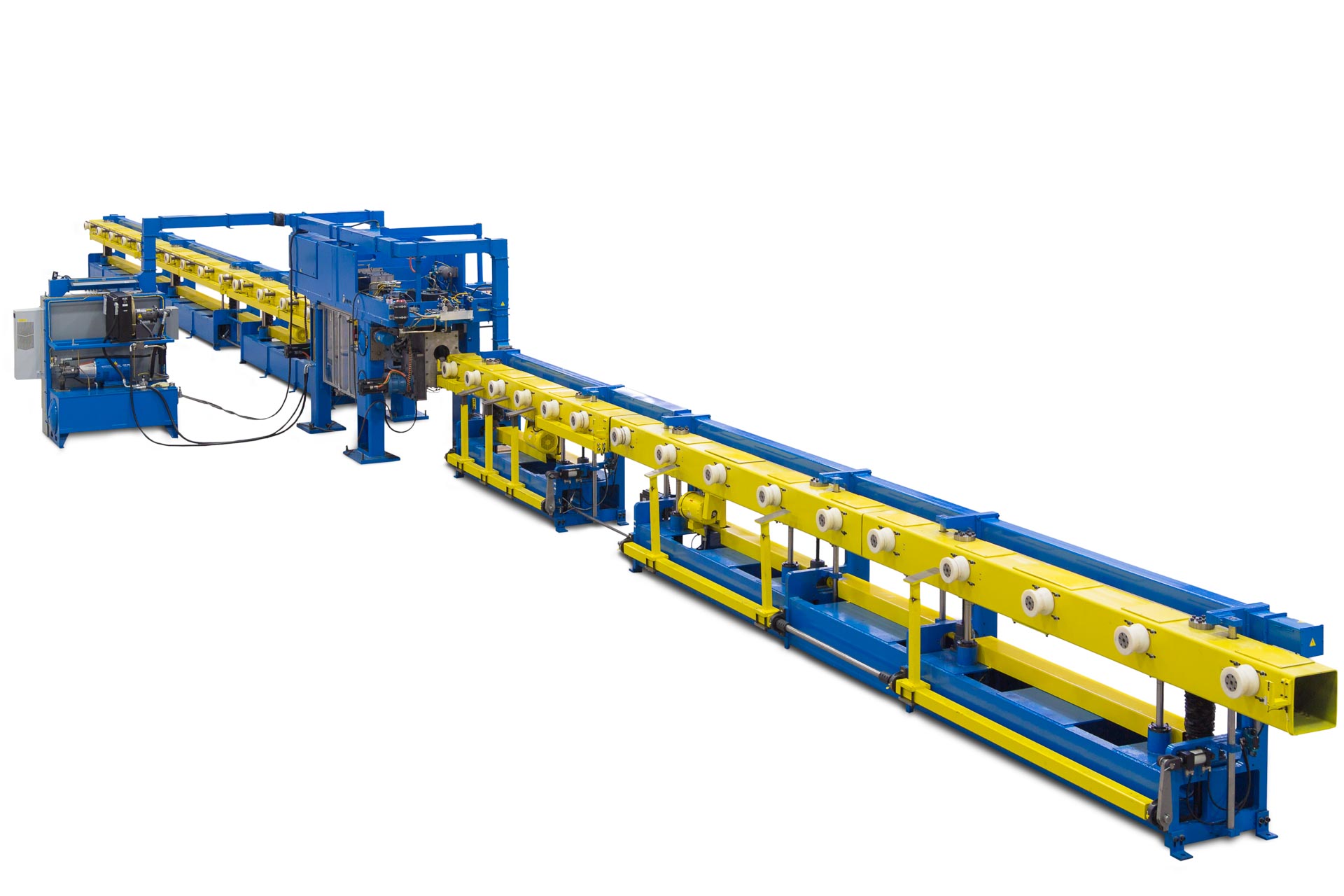 Our shaped tube loaders provide the solution to the challenges of trouble-free loading of square and rectangular tube bundles into our Dual-Blade Shear tube cutoff machines.
Servo Dial Loader
Tube Capacity: 0.375 inch to 3.0 inches
Bundle Lengths: up to 24 feet
Bundle Weight: up to 4,000 pounds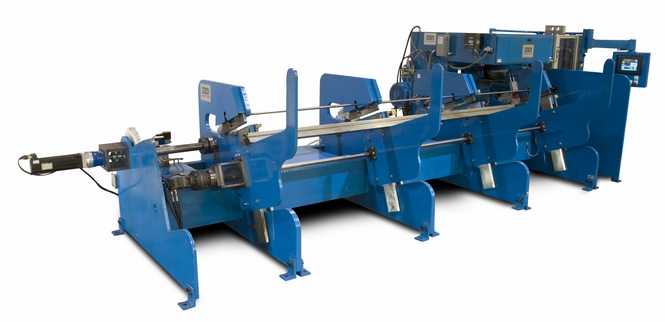 The servo dial loader is the ultimate solution for delivering rectangular, square and round tubing to the SC30 shear tube cutoff machine.
These compact loaders feature a fully-welded frame with a stiff, "box" construction, so the loader installs quickly and maintains alignment
Tube angle is maintained consistently and in proper alignment with the cutoff die
Sequencing and extensive diagnostics are integrated into the cutoff control system.
A single hand wheel adjustment is all that's required for diameter change
Multi-nest dials are servo-controlled and handle up to 24 different tube profiles, reducing setup time so short runs are profitable
When the bundle is tilted, the tubes slide off in neat rows; the servo dial rotates, capturing the tube in the appropriate slot
The cutoff machine feeder grips and advances the tube into the cutoff machine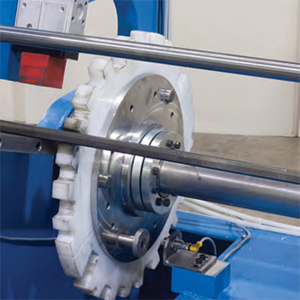 Servo Dial Loader Advantages:
Use fork truck or crane to load
No changeover for different shapes
Load up to 24 different tube shapes with one dial set
Consistent orientation of shaped tubes
Smart sensors detect bent tubes
Nylon dials protect the tube surface finish
Load new bundles while cutting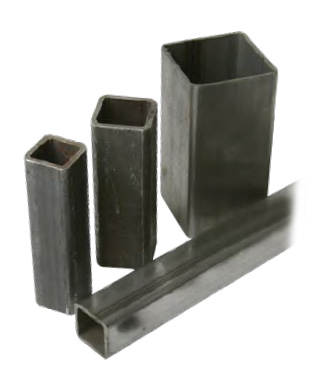 Indexing Chain Loader
Hautau indexing chain loaders offer an alternative tube loading solution for shaped tubing and small diameters.
These loaders also offer unique features for handling tubes that are too small or flexible to load from bundles or tubes that have a critical surface finish.
Tube Capacity: 0.375 inch to 3.0 inches (2.75-inch square)
Bundle Lengths: up to 24 feet; 42 feet available
Bundle Weight: up to 10,000 pounds; Individual tube limit is 2,000 pounds
How it works:
Tubes are placed on the indexing chains.
The chains advance tubes to the lift rolls.
Shaped tubes are tilted for shear cutoff.
V-rolls raise and rotate the tube.
Pinch rolls push the tube into the cutoff machine.
The cutoff machine grips and advances the tube.
Indexing Loader Features & Benefits:
Open-front design ensures easy fork truck access.
Up to 40 tubes can be staged for continuous cutting.
Four parallel chains automatically index the tubes.
Urethane V-wheels protect the tube surface finish.
No changeover is required for diameter change.
Tubes separated by chain links— don't rub together.
Used for plated or polished tubes; also for short run applications.